dental Crowns and bridges
restore the appearance of your smile and maintain the functionality
of your teeth with high-quality dental Crowns and Bridges on the Gold Coast.
Dental Crowns and Bridges are dental restorations that improve both the aesthetic value of your smile as well as the function. At ArtSmiles Gold Coast, we offer professional cosmetic dentistry to restore your smile. Our team has extensive experience in performing dental crowns and bridges treatment on the Gold Coast. If you have a decayed or weak tooth, or missing teeth, dental crowns or bridges may be the ideal solution. You can get back your missing or damaged teeth and look entirely natural.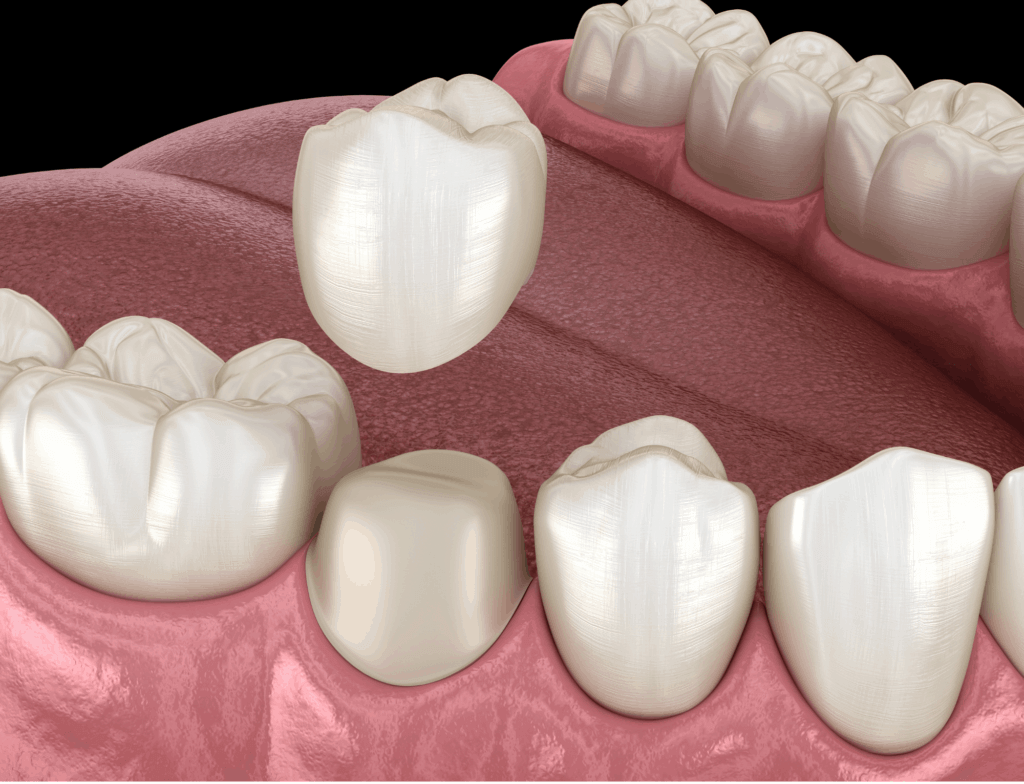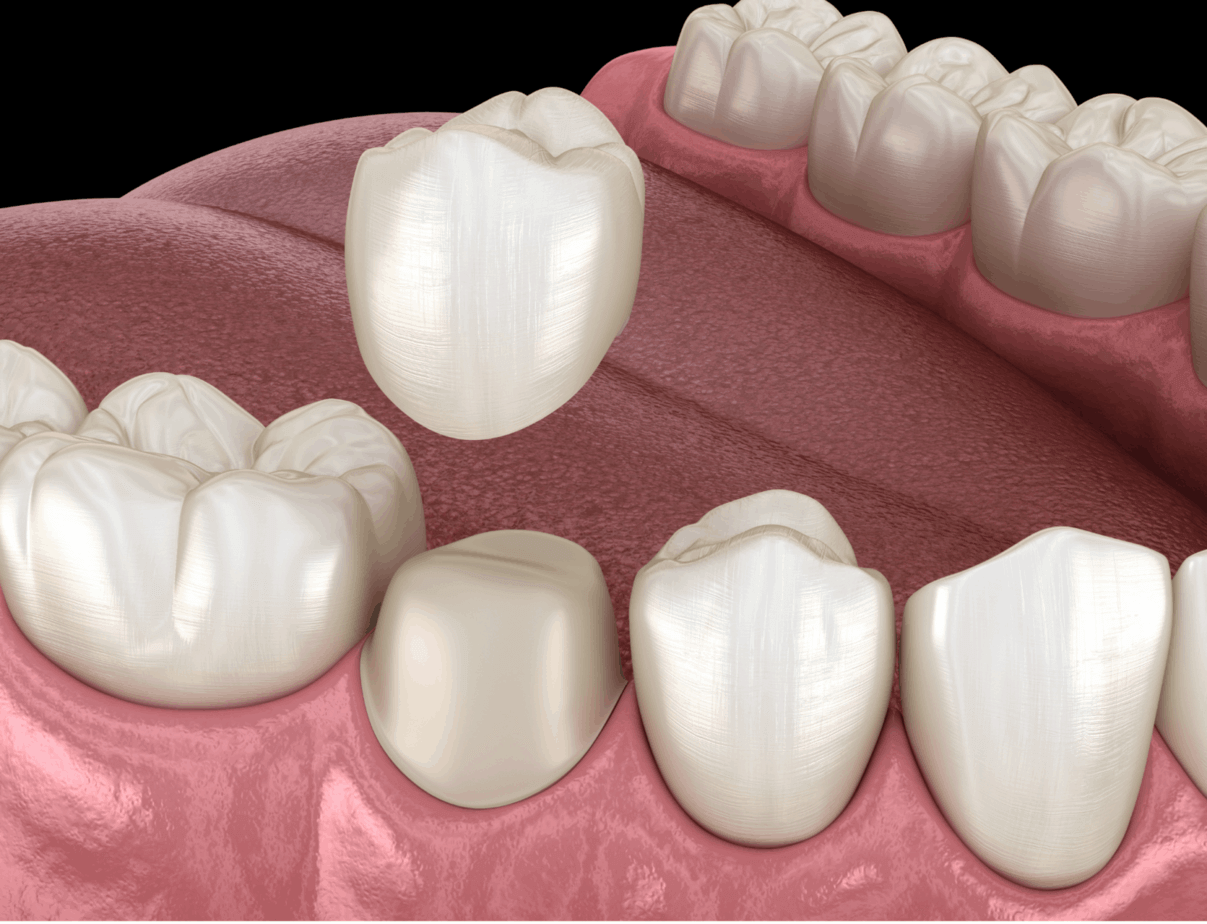 A dental crown is a tooth-shaped cover, or "cap," custom designed to fit over a broken or worn tooth to restore its good health, function, optimal structure, size, appearance and shape. A dental crown can also improve the appearance of the tooth to hide large fillings, fractures, or other issues.
One of the most common uses of a dental crown is to repair significant damage or decay that has affected a tooth. Unlike removable dentures, your dental crown is permanently attached to your tooth and requires no special maintenance beyond maintaining healthy oral hygiene habits.
Dental Crowns look like your natural teeth and are fully customizable to your specific needs. 
The most common materials used for making dental crowns is porcelain for an aesthetic, natural-looking restoration, but dental crowns may also be created from porcelain fused to zirconia, and full zirconia. Our Gold Coast experts will discuss the available types and help you choose the type of restoration that is best suited to your personal dental needs and lifestyle.

Dental Crown/Bridge Assessment
Complete the evaluation below to discover if you're a candidate for dental crown/bridge.
When would I need a Dental crown?
When you visit us, our dentist may suggest a dental crown for a number reasons including the following conditions:
Covering a dental implant

Strengthening a cracked or weakened tooth
Protecting a tooth after root canal treatment
Enhancing the look of a severely stained or spotted tooth
Improving the function and appearance of a misshapen tooth
Supporting a large dental filling when little tooth structure remains
Decay is too advanced for the tooth to support a filling
To save a broken tooth
To anchor a bridge or a partial denture
For cosmetic enhancement of a poorly shaped or discoloured tooth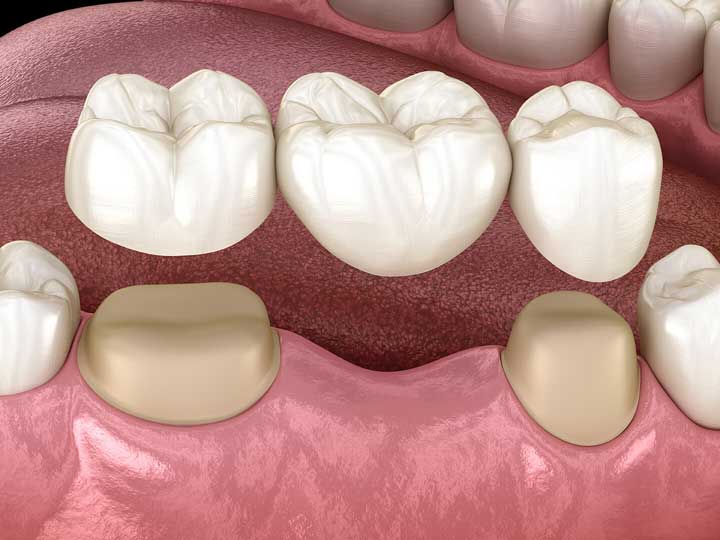 While dental crowns are an excellent solution for damaged teeth, a missing tooth requires a more direct approach. A dental bridge is a connected series of porcelain dental crowns specially designed to fill that gap in your smile, attaching an artificial tooth to two dental crowns that are anchored to adjacent existing teeth or dental implants. 
Using a custom design to fit your smile, our experts create high-quality dental bridges that are comfortable and natural feeling.
Our dental bridges are custom designed to blend seamlessly with your existing teeth while providing maximum functional benefits.


Dental Crowns/Bridges procedures
When getting dental crowns and dental bridges installed, it is advisable that you work with an experienced cosmetic dentist that uses the most natural, durable material available. At ArtSmiles Cosmetic Dentistry, we use the latest in dental technology that provides the utmost in patient safety, greatly minimizes or eliminates pain, reduces any appointment apprehensions and frequently eliminates the need for multiple visits. 
Using our in-office CEREC laboratory, we can create Crowns, Bridges, Inlays and Onlays in only one visit, requiring no temporaries. And unlike older methods, CEREC restorations can be used on all teeth, including back biting teeth and molars. With this technology, our dentists can provide among the finest and fastest Dental Crowns Gold Coast has available. We will match them to your healthy teeth, and they will look and feel natural and healthy.
Your initial consultation with Dr. Cristian Dunker is free. In this consultation, Dr. Dunker will discuss your situation and help you select the best possible way in which you can get the changes you want. Your treatment plan will be carefully formulated to make sure that your smile transformation is exactly what you want it to be.
Come in and see Dr. Dunker for a complimentary consultation and find out exactly how you can restore your smile to natural health and beauty, using top notch dental crowns in Gold Coast.
ArtSmiles Technology: The Very Best In Modern Dental Care
Dental Crowns/Bridges Warranty
Dental Crowns/Bridges Warranty


Dental Crowns/Bridges Costs
As each and every patient has unique needs, a final quote can only be obtained after a full consultation and assessment of your suitability for dental crowns/dental bridges. In the meantime, you can find some ballpark prices below, as well as the advantages of joining the ArtSmiles Club Membership Program:
| | | |
| --- | --- | --- |
| Procedure | ArtSmiles Club Discounted Fee | ArtSmiles Private Fee |
| Full crown- non metallic- indirect | $1,344.00 | $1,680.00 |
| Bridge 3 elements (2 crowns + 1 pontic) | $3,618.60 | $4,560.00 |
Want extended warranty, discounts on services and easy access to high-quality dental care?
Frequently asked questions
Not sure if Dental Crowns and Bridges are right for you?
Book now a Complimentary Consultation on the Gold Coast and our experts will help determine what is best for you and your specific needs.
Changing lives, one smile at a time
our personalised approach
Dr. Cristian Dunker is a trusted Gold Coast Cosmetic Dentist, who has been working with Dental Crowns and Dental Bridges to create beautiful smile makeovers for years. Having personally designed numerous smile makeovers, he has the experience, skill and artistic eye to give you the beautiful, natural smile that you have always wanted.
He has perfected the art of Cosmetic Dentistry to ensure that the smile transformation is comfortable, rapid and precisely crafted to give you a smile that is perfectly suited to your face and your personality.