Enhance and Improve the sparkle of your smile
with high-quality dental veneers.
Dental Veneers are a popular choice that can revitalize and change your smile very quickly. If your teeth are chipped or stained, include an unsightly gap, or have been ground down, and you are ready for a change, you should consider a Smile Makeover.

The biting strength and chewing of your teeth is vital to your oral and overall health. However, the aesthetics of your teeth also hold significant importance. Beautifully sparkling white teeth boost your confidence and make you feel good about yourself.

At ArtSmiles Gold Coast, we understand that it's essential for your teeth to function properly and look aesthetic. That is why we offer Cosmetic Dental Veneers on the Gold Coast. These veneers are designed to give you natural-looking white teeth and cover any teeth imperfections. This improves your smile as well as your overall facial appearance.
Book a Free Veneers Consultation Today!
Want to find out about how ArtSmiles can help you achieve your perfect smile? Come for a free consultation to find out.
Veneers (also known as laminate) are a thin, translucent layer of a carefully chosen material that is customised to cover the imperfections of your teeth. The material is shaped to bond to the front of your teeth, and as a result, enhances the shape, size and colour of teeth, to close gaps and improve alignment.
At ArtSmiles, they are designed to do this and much more. Dr Cristian Dunker has taken the art of Dental Veneers to a much higher level. Our custom Dental Veneers will match or replace your natural teeth, and Dr Cristian will make sure that the Dental Veneers you get will give you the exact smile transformation that you've always wanted.
Dental Veneers Assessment
Complete the evaluation below to discover if you're a candidate for dental veneers.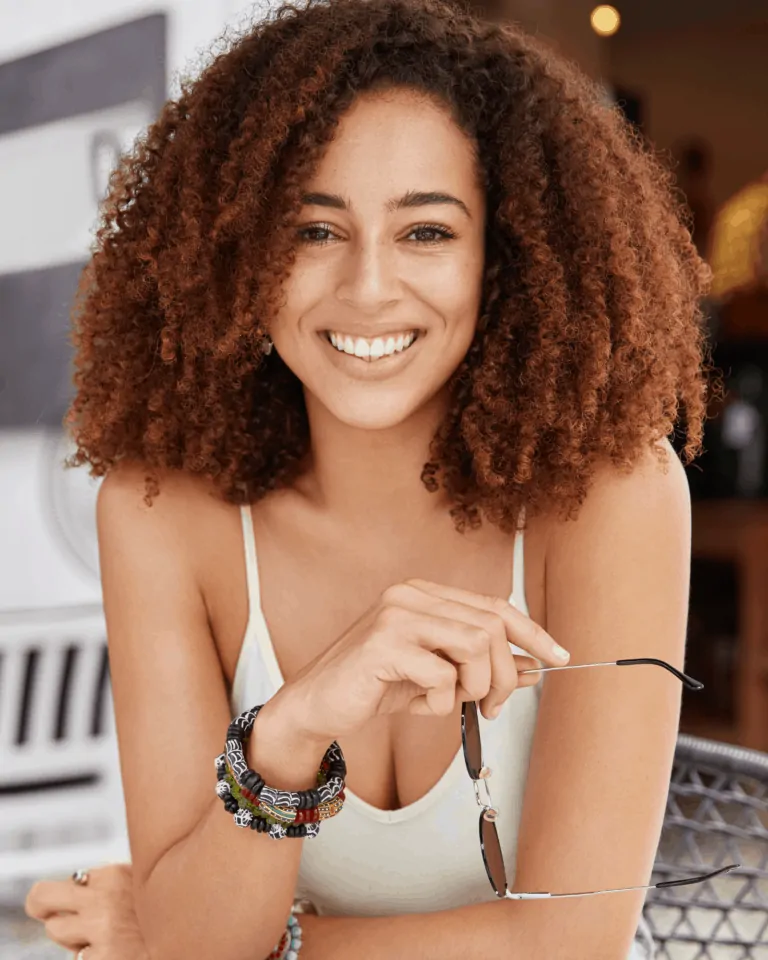 Problems That Dental Veneers And Laminates Can Fix
Discoloured and stained teeth
Worn-down teeth
Chipped or broken teeth
Misaligned, irregular shaped or uneven teeth
Teeth with gaps
Composite Resin VS Porcelain Veneers
There are as many differences as similarities between resin composite veneers and porcelain veneers. Determining which type of veneer is right for you comes down to multiple different factors.

Both types basically serve the same purpose and involve placing tooth-coloured material over the front surface of the tooth to improve its shape.
Both are used to deal with dull, discoloured, chipped, cracked, short or uneven teeth. If any one or more of these are affecting you, your smile or your confidence, veneers are obviously the best and most common solution.
The differences are due to the quality, procedure, durability and cost of the two different materials.
Porcelain veneers are thin shells of porcelain adhered to the outer-surface of the tooth. Composite veneers are engineered resin affixed to the outer-surface. Both are made to match your teeth (or whiten) and improve your overall smile.
Porcelain veneers are much stronger and more durable than composite resin veneers. They're extremely thin (0.6mm), so they feel like real teeth in your month. The smooth, impervious ceramic used in porcelain veneers also resists staining from cigarettes or coffee. 
With dental porcelain veneers, your teeth reconstruction is so close to natural in terms of their shape, colour, and texture, that only your dentist can tell the difference between them and your natural teeth. 
The quicker of the two dental veneers to be applied to the teeth are composite veneers. This is because they can be done chairside in the same visit. Dr. Cristian Dunker will match the resin to the colour, size, and shape of your desired new smile. The resin is added to your teeth, cured and then polished. You can walk out the same day with a new smile!
Porcelain veneers typically take at least two visits. Dr. Cristian will remove a very thin layer of your teeth, take an impression of the teeth receiving the veneers and send the mould out to a lab to be hand crafted. While you are waiting on your veneers to be fabricated you can wear temporary veneers. A second visit will fit them to check for colour match and shape, and if you're happy, they will be bonded to complete the process.
With proper care, porcelain veneers should last 10-15 years. Composite veneers, on the other hand, typically last 5-8 years. While porcelain is fragile, once bonded to a healthy tooth it is extremely durable. Composite is durable but not as strong as porcelain and is more prone to chipping. However, if damage were to happen to a porcelain veneer, it would have to be replaced, it cannot be repaired. If you chip a composite veneer, you can repair it.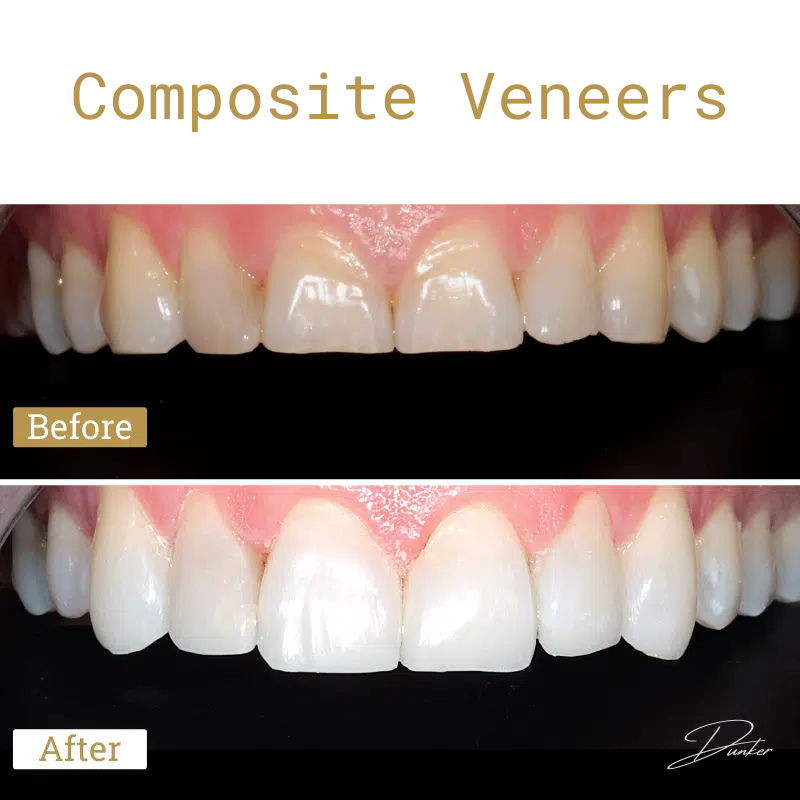 Porcelain veneers are more expensive than composite initially. The placement of porcelain takes more time, expertise and resources. The dental lab's dentists work with are chosen very carefully and cost money to fabricate restorations. If you break down costs by how often you would have to replace/repair composite verse porcelain though, the cost could come out even over time.
Choosing between composite and porcelain veneers
At the end of the day, the only way to determine whether a composite or porcelain veneer solution is right for you is to come for a free consultation and discuss about your aesthetic goals and to weigh your personal considerations. In other words, what is most important to you? If you're looking for the most cost-effective solution, then a composite veneers treatment plan will probably be a good fit. However, if you have a severe aesthetic concern, or you're looking for the most natural and durable treatment solution, then porcelain veneers will give you a fantastic result.
Regardless of which material you opt for in the end, you can rest assured that both offer fantastic smile enhancement. 
Most restorative cosmetic dentist procedures require multiple visits to the dentist to complete treatment. At ArtSmiles Cosmetic Dentistry, Dr. Cristian Dunker combines his years of experience, advanced techniques, and cutting edge CEREC technology to provide patients with dramatic results in a single office visit. We use state-of-the-art 3D imaging and CAD-CAM technology to make it possible for us to design, create, and place your dental veneers in a single visit, combining convenience with quality for amazing results.
Your initial consultation with Dr. Cristian Dunker is free. In this consultation, Dr. Dunker will listen to your concerns, discuss your situation and help you select the best possible way in which you can get the changes you want. Your treatment plan will be carefully formulated to make sure that your smile transformation is exactly what you want it to be.
Come in and see Dr. Dunker for a complimentary consultation and find out exactly how you can enhance and improve the sparkle of your smile to natural health and beauty, using top notch Dental Veneers in Gold Coast.
Composite Veneers Warranty
Porcelain Veneers Warranty
Composite Veneers Warranty
Porcelain Veneers Warranty
As each and every patient has unique needs, a final quote can only be obtained after a full consultation and assessment of your suitability for dental veneers. In the meantime, you can find some ballpark prices below, as well as the advantages of joining the ArtSmiles Club Membership Program:
Want extended warranty, discounts on services and easy access to high-quality dental care?
Frequently Asked Questions About Dental Veneers
Dental Veneers Gold Coast
Dr. Cristian Dunker is a trusted Gold Coast Cosmetic Dentist, who has been working with Dental Veneers to create beautiful smile makeovers for many years. Having personally designed numerous smile makeovers, he has the experience, skill and artistic eye to give you the beautiful, natural smile that you have always wanted.
He has perfected the art of Cosmetic Dentistry to ensure that the smile transformation is comfortable, rapid and precisely crafted to give you a smile that is perfectly suited to your face and your personality.
Latests Articles About Dental Veneers
Dental Veneers are able to mask tooth decay, chipped, crooked, or stained teeth. See what types of Veneers exist and which one would be best for you.
Read More »
Book a Free Veneers Consultation Today!
Want to find out about how ArtSmiles can help you achieve your perfect smile? Come for a free consultation to find out.