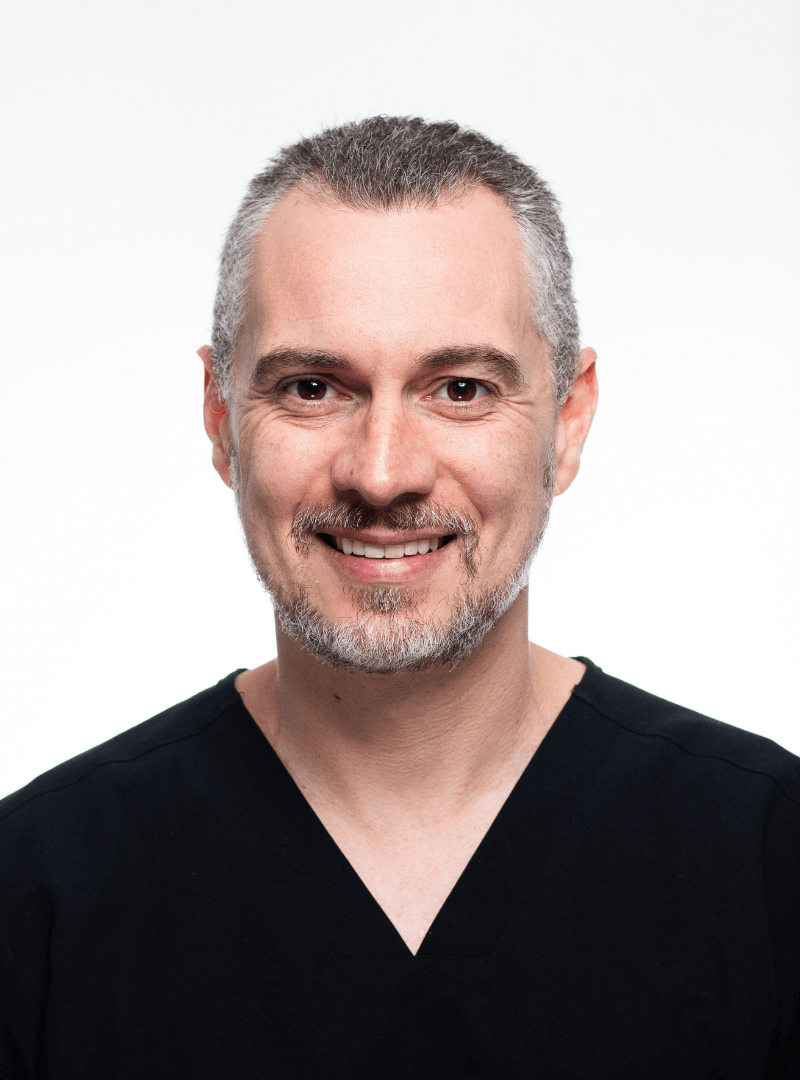 BDSc, MBA (Qld) - Principal Dentist
Cosmetic Dentistry | Full-Mouth Rehabilitation
A SMILE is the most beautiful part of the human body. It can be mysterious, it could be distinct. It adds colour to any face and brings joy. And i
t is very contagious too!
ArtSmiles is the perfect combination of the Anatomical Fine Art and Craftsmanship. Compassion and empathy is why I do what I do.
Dr Cristian Dunker is a renowned Gold Coast dentist who combines an extraordinary eye for aesthetic perfection with a devotion to compassionate and gentle dental care. With over 18 years of dedication and authority in the field of Cosmetic Dentistry, he is the Principal Dentist and CEO of ArtSmiles, founded with the aim of bringing together his extensive knowledge of cosmetic and restorative dentistry with the best professionals and the most advanced technologies available to produce the finest possible treatments for a wide array of dental problems.
Cristian graduated with a Bachelor of Dental Science from the Federal University of Santa Catarina, Brazil. He has a Postgraduation degree in Geriatric Dentistry and holds clinical courses in Oral Rehabilitation, Laboratory and Operative Dentistry. He has also completed 3 Master's Degrees, MBA, and has a special interest in full-mouth rehabilitation, dental implants and dental veneers treatment and strives to achieve aesthetic results for his patients.
His patients often comment that he is a meticulous perfectionist who offers the highest level of skills along with a warm and friendly personality. You will be impressed by his composure, confidence and friendly demeanour and you will receive the highest level of care, respect and efficiency. He listens to his patients' concerns and needs and is sensitive to each client's individual requests.
He believes he can only truly provide satisfaction through determining what his patients value for their dental health and where this fits in to their lives, which is why he makes time to listen.
He is also committed to changing the stereotypes of the dentist and the experience of visiting the dentist, which can be seen through the innovative design of the practice and its humanised and sensitive approach to the needs of each patient. He takes the time to get to know his patients and listen to their past experiences so that he can tailor their treatment with minimal stress.
Outside of dentistry, Cristian loves spending time with his family and playing with his children. Never sitting still, he is passionate about environmental and social causes, and values the social responsibility that ArtSmiles exerts in the community and the genuine difference it makes in people's lives. Cristian also dedicates time to run regularly in the fantastic landscapes that the Gold Coast has to offer.  
People are talking about us
Read our reviews to find out why we are considered the best dentists on the Gold Coast
Janice Minihan
5. April, 2022.
My son needed an emergency dentist last week and the staff were so lovely and accommodating. They fit him in, extracted his tooth (thanks Dr. Konna!) and we were at the wedding planned that day 4 hours later. Super grateful and really appreciative of the follow up! Highly recommend, wish they were in Brisbane.
Stanford Feo
1. April, 2022.
Doctor Christian and wife Susie were so helpful and understanding in this whole process, once entering the doors made me feel at ease and trusting the process for my tooth implants, Highly recommend Christian and his team loving the new tooth implants and will be non stop smiling from here on out!!
Matthew Banks
17. March, 2022.
Outstanding service and exceptionally clean clinic. I visited Dr Cristian Debunker for a full mouth rehabilitation and he was able to exceed my expectations in a considerably short time frame. The whole procedure went smooth and efficiently! Highly recommend for anyone that is considering visiting this practice for cosmetic dental work. Thanks for the new smile! Life changing.
Kristy White
8. March, 2022.
Dr Konna was so lovely, caring and explained everything simply. Highly recommend.
ANTONIO SERGIO
24. February, 2022.
Amazing Experience. Both my wife and I are always extremely well taken care of by Dr Cristian and the entire team. The fact that we are treated not as patients but as friends makes the experience not a commercial experience, it became light and pleasant. The entire relationship, the entire structure of the clinic, the fact that everything is of a high standard of quality without charging an expensive price made us have no doubts about choosing the clinic. Thank you for the care and service. Good luck and God bless you!
Dave North
15. February, 2022.
I came here for the first time in February 2022 for a check up and clean. The dentist Selena John was super professional and friendly. She explained everything very thoroughly and made it an easy experience.
Crystal Marquis
4. February, 2022.
Had an amazing experience with doctor konna, appreciated her education skill and sharing with me how to care for my 3 year olds teeth! would definitely recommend again and again!
Thyago Melo
29. January, 2022.
I had a big problem with 1 tooth 2 weeks ago and I had an excellent surprise from the first contact with Susan and Dra Selena till the end of my tooth treatment with Dr Cristian and Camila! To be honest, big thanks to all crew, 5 stars also for customer service (Bruna), perfect! I'm more than happy to recommend it to everyone that is looking for general dentistry! ArtSmiles - Big 5 stars! Thanks, guys!
Book Your Dentist Gold Coast Today
We Offer Everything From General Dental Care To Complex Dental Rehabilitation. Book your appointment now!