A Short Guide to the Cost of Dental Veneers in Australia
People often assume that Dental Veneers are an expensive luxury and are only available to celebrities and the wealthy. But they might be more affordable than you think.
Here at ArtSmiles, we pride ourselves on offering some of the most competitive prices for best quality dental veneers. That's competitive by the way, not cheap. There is definitely a difference! If blindingly white, ridiculously noticeable fake teeth are what you're after, you're in the wrong place. Instead, we will work with you to create your dream smile using natural-looking, high-quality veneers that are guaranteed to complement your face and complexion perfectly.
Every procedure we perform is carried out under the highest safety and quality standards, ensuring that the result is one you will be proud of for years to come.
Book a Free Veneers Consultation Today!
Want to find out about how ArtSmiles can help you achieve your perfect smile? Come for a free consultation to find out.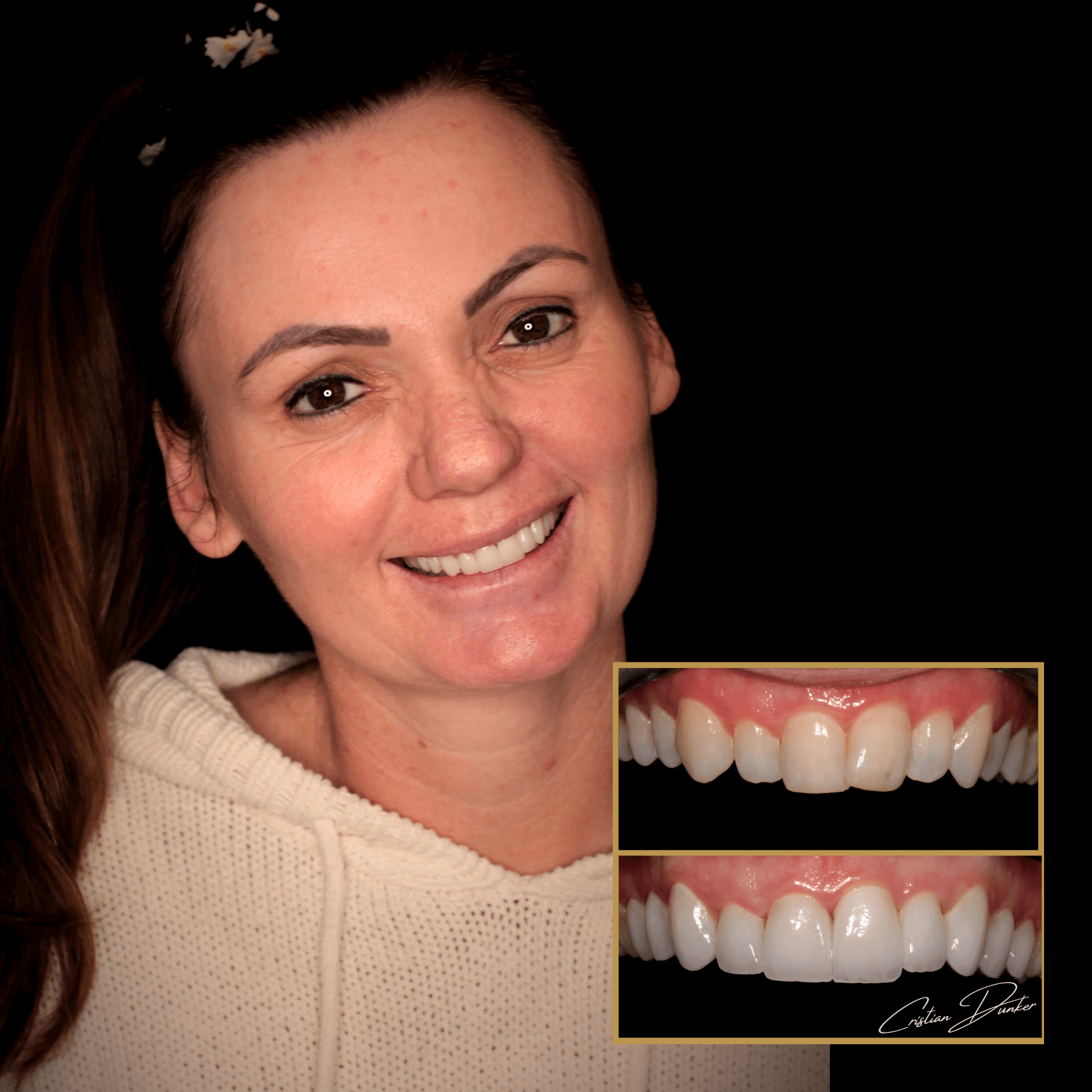 Main Factors Which Impact the Cost of Veneers:
Type of material used – porcelain veneers are more expensive than composite resin veneers
Number of veneers required – the more you have, the higher the cost
Amount of preliminary work – treatment required to create optimal foundation
Complexity of the smile design – some smiles require more intricate work than others
General health of the teeth and gums 
You can book a free consultation with our top cosmetic dentists, who will be able to give you a detailed breakdown of the costs involved in creating your smile.  
Latest Art smiles & journeys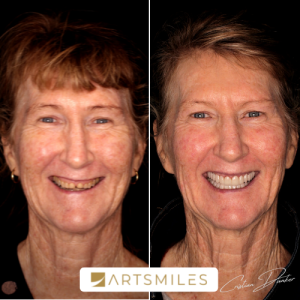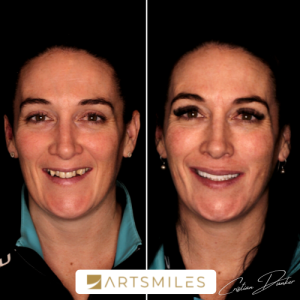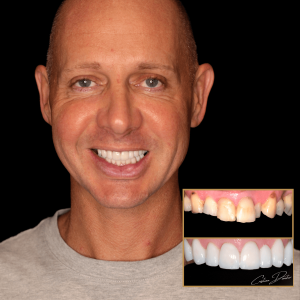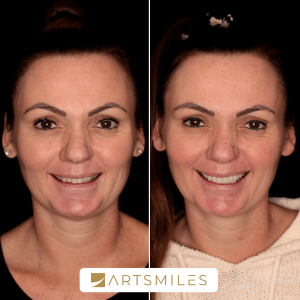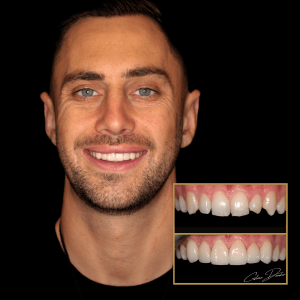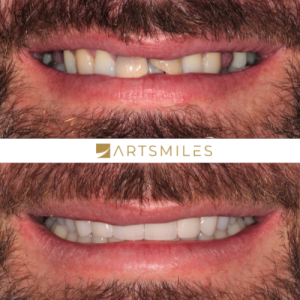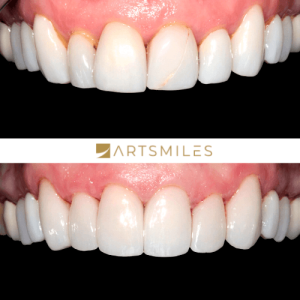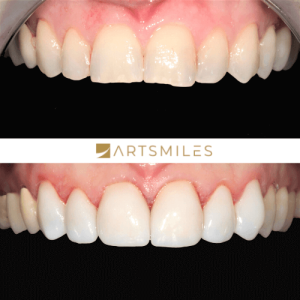 How much do veneers cost?
The complexity of veneers treatments is reflected in the costs. Some patients will only require a single veneer to improve the look of one front tooth and ArtSmiles team will use their skill and superior porcelain veneers to ensure that this single veneer is a close match to the natural teeth.
Other patients with more discolouration or a set of front teeth that are displaying damage, chips or crookedness, may require a full set of veneers. These too will be matched with natural teeth but a certain level of increased 'brightness' can also be added to increase the sparkle in a smile.
At the end of your veneers treatment our aim is always to leave you with a smile of which you can be proud and relieve any concerns about damaged, crooked or discoloured teeth that may have been hampering your social or business life.
Our present veneers costs reflect the superior levels of satisfaction that our bespoke porcelain veneers provides, along with the level of expertise our team of cosmetic dentists have that carry out the treatment.
You can view some of our fantastic veneers before and after photos and read our frequently asked questions about veneers to help you decide if they're for you.
Cost of Composite Veneers:
Composite veneers are less expensive than porcelain because they're sculpted from special composite resin in a single visit to the dentist. This is different from two or three visits and the expensive lab-work required for porcelain.
Composite veneers are the veneers that are made out of a paste that hardens and is polished by your dentist.  Not every dentist does composite veneers because they are as much art as science. If you have cosmetic problems that need fixing and your teeth are not badly damaged or worn then composite veneers are the veneer of choice.
In Australia, composites cost between $300-600 per tooth and last 5-7 years.
Cost of Porcelain Veneers:
Porcelain veneers are more expensive than composite initially. The placement of porcelain takes more time, expertise and resources. The dental lab's dentists work with are chosen very carefully and cost money to fabricate restorations. 
In Australia, the price of porcelain veneers can range from $700-$2000 per tooth. Despite being the more expensive option, porcelain veneers look more natural and are more durable than composites, and will typically last much longer. You can expect them to last 10-15 years with proper care, so the cost of porcelain veneers is often worthwhile.
If you break down costs by how often you would have to replace/repair composite verse porcelain though, the cost could come out even over time.
Spread the cost of veneers
We understand that it is not always possible to pay for veneers upfront, so we offer a range of competitive and affordable payment plans through third-party companies. Our staff can guide you through our payment plan options to find the best solution for your requirements.
National Dental Plan (Powered by Humm)
We welcome members of all private heath funds for treatment, and you would only need to bring your health fund card to claim your treatment on the spot by swiping it in our HICAPS terminal and only the "gap" payment is required at time of treatment.
If your health fund does not participate in HICAPS  or you do not have a HICAPS compatible member card, then payment in full is required at the time of treatment. Your health fund will then pay the rebate directly to you on presentation of your account.
Using HICAPS, we are also able to provide a "rebate estimate" prior to treatment for some of the participating health funds.
Other Options for Payment:
Other ways to pay for your veneers include credit cards and cash (If you are not using finance, you will pay for the veneers at your appointments. You will pay a deposit, and your remaining balance will be taken at your final appointment.) There are other options to pay for cosmetic treatments; you can pay upfront or choose one of our personalised finance plans. Please call us on 07 5588-3677 or send us an email to contact@artsmiles.com.au if you want to discuss payment options further.
Want Discount On Dental Veneers And Easy Access To High-Quality Dental Care?
Join ArtSmiles Club and receive quality dental care at a price you can easily afford. Get access to routine preventive care and emergency exams at no extra cost and additional services at a reduced cost (Up to 30% off).
Our Membership Program provides an affordable, hassle-free way for you to receive the dental care at very affordable fees. We want you to take care of your teeth in order to achieve a healthy and long-lasting smile, and we believe that the ArtSmiles Club can help facilitate a lifetime of consistent dental care.
Designing Your Beautiful Veneers
Careful planning is provided along with extensive discussions to understand our patients expectations.
We work closely with our dental technicians who fabricate the veneers following to the approved smile design.

Our patients have the opportunity of visualizing what the veneers could look like and approve the appearance before any irreversible treatment is carried out.

We use wax ups on the models of the teeth which are then transferred to the mouth with a mock up made with temporary material that allows us and most importantly the patient, to see what the ideal size, shape and position is necessary. It also allows us to check the bite and make sure the final veneers need minimal adjustments.

As each and every patient has unique needs, a final quote can only be obtained after a full consultation and assessment of your suitability for dental veneers. In the meantime, you can find some ballpark prices below, as well as the advantages of joining the ArtSmiles Club Membership Program:
Want extended warranty, discounts on services and easy access to high-quality dental care?
Frequently Asked Questions About Costs of Veneers
Latests Articles About Dental Veneers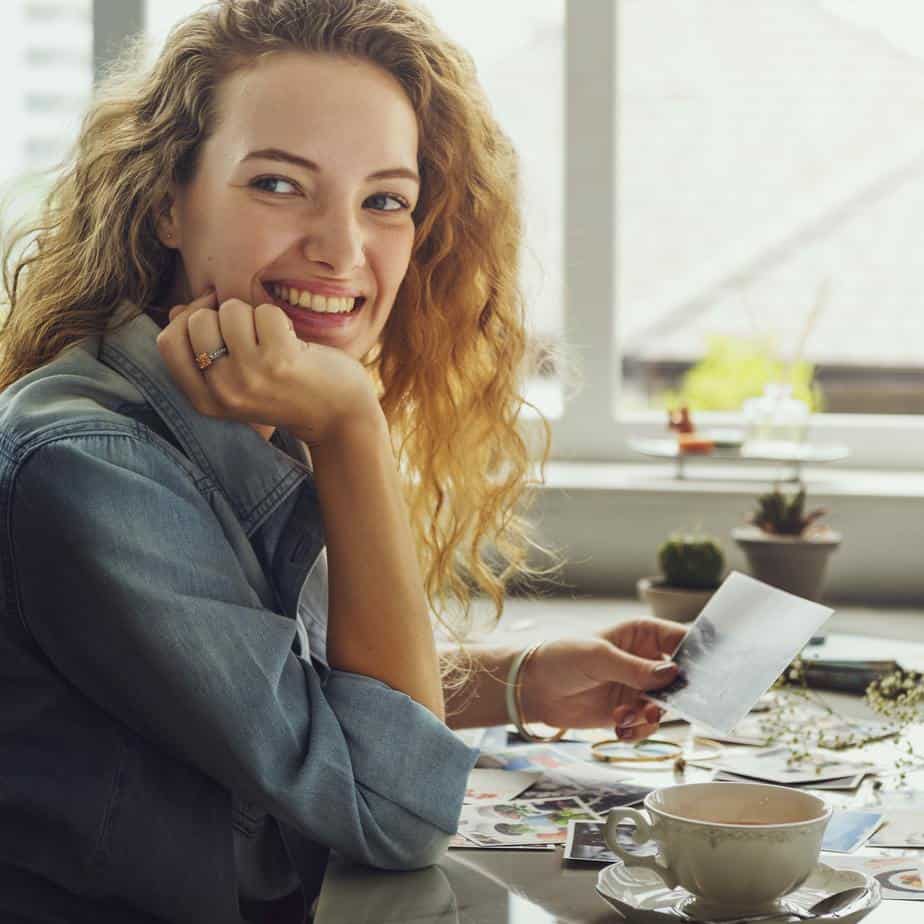 Dental Veneers are able to mask tooth decay, chipped, crooked, or stained teeth. See what types of Veneers exist and which one would be best for you.
Read More »
Book a Free Veneers Consultation Today!
Want to find out about how ArtSmiles can help you achieve your perfect smile? Come for a free consultation to find out.