How To Floss And What Is The Best Flossing Technique?
Dental flossing is as important as brushing your teeth. The reason why this is so crucial is that it removes unwanted food particles in between your teeth. If you don't have the habit of doing it, make sure to implement it in your hygiene routine as soon as possible.
This article will guide you about the proper flossing technique.
The best Dental Flossing Technique
Many people lack the proper technique when it comes to flossing, so they skip it. To make it simple, the following steps will show you how to do it in detail.

Winding
Take about a 50-centimetre-long floss and wind it around either to your middle or index finger of one hand and the same finder of the other hand. Slightly hold the floss between the thumb of one hand and the index finger of the other, leaving 1-3 centimetre in between. Use your thumb to reach your upper teeth.
Guiding
Take 1-3 centimetres of the floss and slightly stretch it between your fingers. Then guide it between each side of the tooth by gently rubbing it in a zigzag motion until it reaches the gum line.
Gliding
Curve the floss into a C shape between your teeth, and guide it between your teeth in a zigzag motion. Try to prevent the floss from snapping during rubbing.
Sliding
You also need flossing if you have fixed prosthesis. But the technique is different for a prosthesis. For prosthesis, there are many brands that will help in your oral care routine. Oral-B is one of the most recommended ones.
If you have crowns, bridges, or dentures, take the floss between the finger of one hand and the thumb of the other hand. Just like in regular flossing measure between 1-3 centimetres and rub it between the teeth and take it under the prosthesis. Make sure to rub it under the gingival margin in a C shape to clean the prosthesis from the underside.
If the space between your prosthesis and gingiva is large, you can also use specific tooth brushes. For prosthesis, Curapox and Tepe are the best interdental brush brands in the market.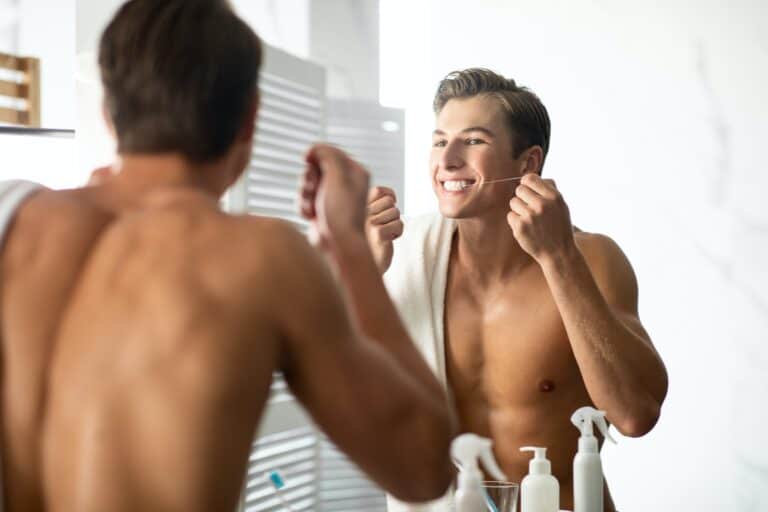 Flossing is only a part of your daily oral hygiene. Don't forget to brush your teeth with fluoridated toothpaste and a soft bristled toothbrush. 
For more information on tooth brushing techniques, read our very first blog post here.
Visiting a dentist regularly is also very important to maintain and treat your oral health.
If you feel like your teeth are not getting the attention they deserve, click here to schedule your appointment with one of our finest dentists in Southport.